Introduction
Your payment gateway has been set up by E-xact, and is now ready for processing. This article is designed to walk you through how to locate The E-xact Gateway ID and Password on the E-xact website.
Getting Started
To access the E-xact website, go to this link: https://pos.e-xact.com
Enter your Login and Password when prompted. (Don't know your Login and/or Password? Call E-xact support at 877-303-9228.)
Once successfully logged into your account, you should see a homepage like this, in Figure 1:

Figure 1

Locating the Terminal(s)
Now it's time to find your terminal(s), which is where the E-xact Gateway ID and Password are found.
Your terminal(s) can be found by clicking the Terminals link on the right of the page, circled in green, see Figure 2 below:
Figure 2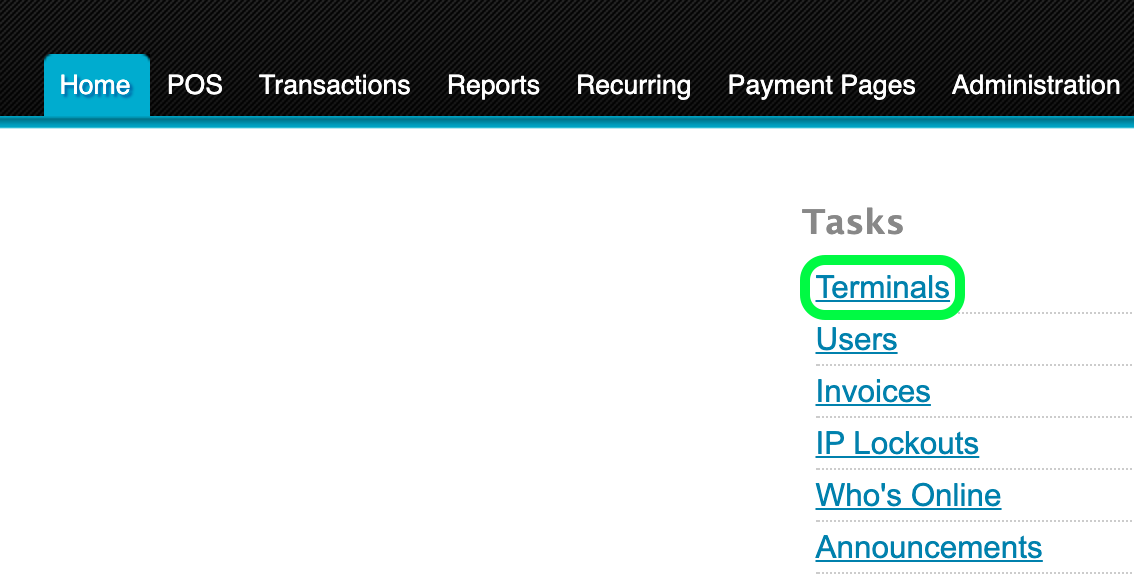 Here, you will find your account's terminal(s) listed, see Figure 3, below:
Figure 3

The name of your new terminal has been sent to you via email by an E-xact support team member. You will find it listed, along with any other terminals you may have.
The Gateway ID
At this point, we need to select the correct Gateway ID that matches your new Terminal.
In Figure 4 the entire Terminal row has been circled:
Figure 4

Terminal Details
Now, you will click anywhere on the Terminal row to open the Terminal Details page, shown below in Figure 5:
Figure 5

There are two ways that you can get your Gateway Password: you can either generate a random Gateway Password (shown in Figure 7a), or enter one manually (shown in Figure 7b).

WARNING: If you already use this Terminal, you may interrupt transaction processing by changing the Gateway Password. The pop-up message (in Figure 6, below) asks you to confirm that you have understood. If this is a new Terminal then you can ignore this warning and proceed.

Figure 6




To generate a random 32 character password click the Generate Key link beside the Password box. The link is circled in Figure 7a. A random 32 character password will be generated by the system once you click the link.

Figure 7a

Selecting Enter Manually will generate a 16 character password and will also give you the ability to enter a Password of your choosing. For security reasons, E-xact highly recommends that this password be sixteen characters or longer. See Figure 7b.
Figure 7b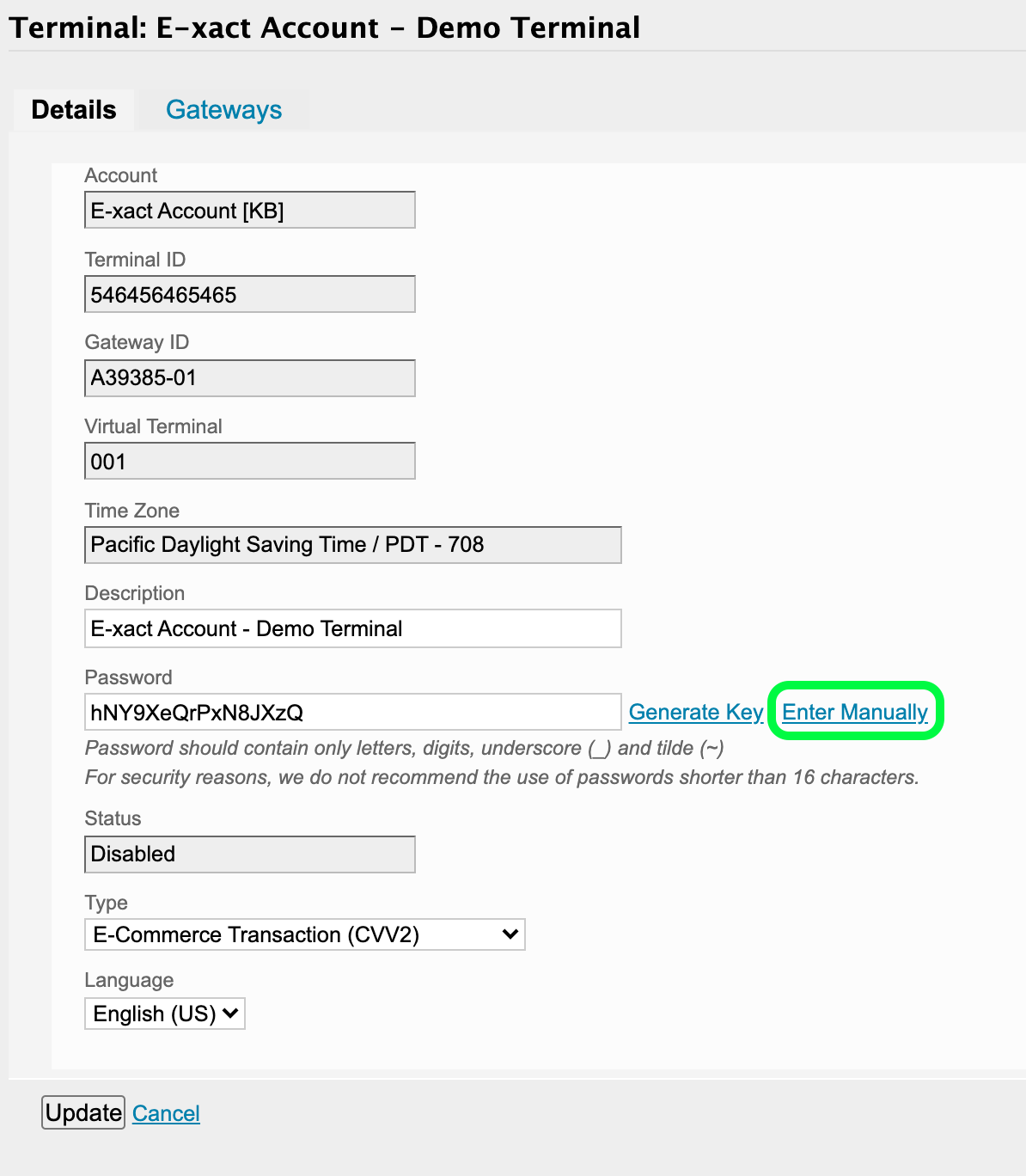 Saving the Gateway ID and Password
With the Gateway Password appearing in the Password field. Please record your new Gateway ID and Password. We suggest taking a screenshot, or printing the page, if possible.

With the gateway codes recorded, you're almost done. Just click Update at the bottom of the webpage, highlighted in Figure 8:
Figure 8

All that needs to be done now is to enter the Gateway ID and Password into your system, or application.
If you have any questions about the process outlined above, or any other general concerns, please contact the E-xact Support team by email at [email protected], or by phone at 877-303-9228.
Was this article helpful?
That's Great!
Thank you for your feedback
Sorry! We couldn't be helpful
Thank you for your feedback
Feedback sent
We appreciate your effort and will try to fix the article